Testimonials for NewBorn Concepts Products and Services
Lactation consultation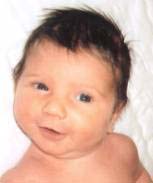 We just wanted to thank you for all of your help with Maya and breastfeeding. Thanks to you we did not give up on it and we found a plan that works for us. We appreciate all that you've done and how doable you made it feel. Thanks again...!
-Emily, Josh and Maya
Your services were so helpful to me as I learned about breastfeeding ! With a 13 year gap between my children, it really is like starting over. When Olivia was born she had some trouble with her bowel function which was quite a scare for us as she underwent various tests. During our visit with you at NewBorn Concepts I learned about the best position for Olivia during feeding and also about the composition of breastmilk which is important for proper digestion. I also felt more comfortable knowing just how much she was getting in each feeding ! Today Olivia is eating very well and her bowel function has improved significantly. I would recommend NewBorn Concepts to any mom who is new to breastfeeding. Thank-you!
-Kyna, mother of two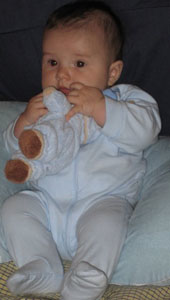 Matthew had feeding problems and had lost 1lb. 2oz. In his first few days of life. On your visit, you noticed that he only took in 1 oz. And possibley had a tongue-tie problem. I went to our pediatrician's refferred ENT doctor and he was not very good. Basically he said that Matthew had a mild tongue-tie but he would feed be bottle since that works and come back in a few months. Well I continued to express milk and feed Matthew mostly expressed milk and some formula for a few weeks, trying to breastfeed about once a day with no luck.
All of a sudden, just before Matther turned one month, he started to breastfeed as if he'd done it all along and seemed to be getting enough milk. At this time, he had been sticking out his tongue a lot (maybe it loosended up) and had better neck/head control. Long-story-short, he became an exclusive breastfeeder, He is gaining weight extremely well : he now weighs 18 lbs and has grown 7 inches since birth !
Originally my goals were to breastfeed for 3-6 months (target of 6), but now I am going to try for 1 year...
Anyway, I thought I would share, maybe it can help with people that may want to give up. I am glad that I kept up my milk supply by pumping and did not give up.
-Denise and Matthew
My baby took to breast feeding well, but I got very sore in the first weeks after his birth. I had arranged for a post-partum doula to come to my home in the days after the hospital. While I was still there, she said, "Just don't get sore in the hospital." But as a first time Mom, I didn't know what this meant or what to do. The nurses came in to help be sure the baby was trying to eat, and were helpful, but no one explained the "don't get sore" thing other than giving a tube of Lansinoh ointment. After being home about a week, I called Robin who came to my house that same day. She was comforting, clear, reassuring and helpful with all her education, both verbal and hands-on. My baby had lost enough weight since birth that the pediatrician was not overly concerned, but was keeping a watchful eye. Robin was clear about what he needed to regain and how to go about it, but also said that if I or my body couldn't keep up, that supplementing with formula was an option. I appreciated her open mind for doing what is best for baby rather than taking a hard-line that formula should be avoided at all costs, though I did not need the formula after all. For the painful, cracked nipples, she educated me on proper latching and recommended a cream that my OB prescribed and eventually it all got better. Robin also answered many more questions for me via email and the phone as I was learning all this new information. For such an important task to learn, her comforting reassurance and clear, very knowledgeable presentation are tremendous. Breast feeding has become a pleasure, and just yesterday, I recommended Robin's class to a friend who is due soon.
-Amy in Media
I wanted to write a message to thank New Born Concepts for all the help I received after the birth of my second daughter in July. I had utilized the lactation services with my first daughter and then came in for an office visit when my second daughter had lost more weight then expected after birth and I was experiancing lots of pain during breastfeeding. Janet did a great job listening to my concerns and reassuring I was doing all the right things. She suggested some ointment (which worked quickly) and checked up on me by phone and email. My daughter gained her weight back and I am enjoying breastfeeding with her! It was nice to know where to turn for help and receive great advice and support.
-2nd time mother Montgomery County
HypnoBirthing®
HypnoBirthing is a great way to bring a child into the world! On Feb. 2, 2006 I had my first child, a girl named Annabelle. She was 8lbs 1oz., no one believed I would be able to have a natural childbirth; my husband included. Not only did I have a natural birth, but the experience was so powerful, I look back on it very positively. I went into it without fear. I believe a lot of my confidence came from the statements from the affirmation CD's; which ran thru my head during labor.
I was sitting on a beach during labor( well sort of). I used the sound of the ocean from the CD player, the ceiling fan was my breeze and a small light was the sun. I also had a blanket around me, which the nurse called my "super cape ." I was the talk of The Birth Center because I only pushed for about 10 minutes and this was my first birth. People think I am amazing but really it is that I was able to stay relaxed allowing my baby and body to work together as nature intended.
-Cortney, Phoenixville, PA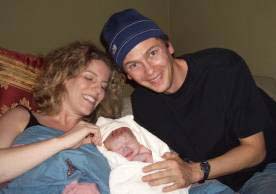 We opted to birth our baby at home, to facilitate a natural birth, and to create the most relaxing environment for baby and mom during delivery. I began using the HypnoBirthing® relaxation cd's coupled with my own visualization exercises REGULARLY about 3 months before the due date. I did about 30 minutes per day of "practice." I visualized my labor going quickly- with the cervix easily, quickly and comfortably opening and the baby smoothly moving through the birth canal. I saw my cervix as a doughnut with the center opening every day. I visualized a pond with rain drops falling and the ripples being the cervix opening, and the baby swimming through the water and to us.
I began contractions at lunch time on Valentines day. The contractions were irregular, but noticeable. At 3 pm, I was 3 cm dilated and very comfortable. I began my relaxation cd's/ techniques at this time. I did this for about 2 hours undisturbed, during which I believe I had regular contractions, but were not bothered by them at all. At 5pm (next "check") I was 4 ½ cm dilated and very comfortable. At 6pm, I had gotten up and had "broken" my relaxation concentration. My contractions became strong and frequent very quickly. Within 30 minutes I was uncomfortable, but managed the surges and discomfort with deep breathing and using the squatting position and light touch massage. I returned to the bed and tried to get back on track with the relaxation cd's. They did help to keep me relaxed at this point, but I was also feeling the urge to push. At 6:30, I pushed at the peak of one of my surges and my water broke. I felt immediate relief. I "pushed" for 30 more minutes (max), and the baby was born at 7:34 pm. What's interesting is that my midwife left at 6pm for dinner since I was 4 ½ cm. She said she would come back at 7:30 or 8pm! Once I started having strong contractions, my husband called her and told her to come back. She didn't get back in time for my water to break.. my husband and I experienced this alone. She returned at 7pm. Without Hypnobirthing and relaxation, we may have been very anxious at this time. But because of our comfort level with the natural aspect of birthing, and allowing the body to do what it knows to do… we just laughed when the water broke, which created a relaxed and fun environment. We probably could've delivered this baby on our own!!
The room was dimly lit with candles, soft music was playing, and my husband was lying on the bed with me as I delivered our baby. I cant imagine bringing this baby into this world in any other way!
The baby was so alert immediately. He recognized my voice and my husband's voice. He was placed skin-to-skin, and he latched on to the breast about 2-3 hours later. I took a shower about 30-40 minutes after birth because I felt so good and strong. He barely cried, he was so calm (as was Mom and Dad) and he is just our perfect little gift.
I am so thankful to HypnoBirthing® for opening my eyes to a safe, easy and comfortable natural birth- one which I could do in the comfort of my own home. This was a blessing. The most incredible and empowering experience of my life!! And one that created an amazing bond between Mom, Dad and baby!!
-Michelle, Christopher and Michael
(Robin's)class really helped me have a wonderful, natural birth for Thomas. The relaxation exercises were very helpful, and I listened to them on my iPod every night. Robin did an exercise in class that ended up being very important to me – I thought it was a little silly at the time, but it was one of the most valuable exercises we did. It was one in which we acknowledged our fears, and sent them away in a balloon. I still use it sometimes!
I had a great labor at home, and used the relaxation techniques to get through about seven hours of contractions (or surges, if you prefer.) I managed to stay focused all through transition. By the time we got to the birth center, I was fully dialated. In retrospect, I wish I had stayed more relaxed while I was at the hospital, and that I hadn't pushed until I had the overwhelming urge, but it all ended up just fine. Getting through the fear of pain seemed to be the biggest challenge. When I let go of the fear, I was able to focus on Thomas. I won't tell you that it was pain-free. It was the pain of hard work though, and completely worth it!
I'd highly recommend Robin's class, and doing all of the relaxation exercises at home. Once you have your baby, if you need to use a breast-pump, I'd highly, highly recommend using Robin's relaxation CD for pumping. It made all the difference for me.
-Cate in Media
My husband and I took the Hypnobirthing® classes with Robin and I would definitely recommend this approach and I will certainly be using it again, if and when I have a second baby. The classes gave me so much confidence about adopting a natural approach and making it seem possible. One thing to bear in mind is that the classes are only the beginning - I can't emphasize enough how important it is to practice daily, so you need to be committed to doing this too.
All in all, I think Hypnobirthing® is a wonderful way to experience childbirth and it certainly worked for me. I had my beautiful 9lb 13oz daughter in ten hours with no medical intervention!
-Nisa in West Chester
I can't tell you enough how much HB impacted me and my husband, and how much confidence the book and the class gave us in preparation for our children's' births. Reading the book was a great first start- I really connected to the logic around the concepts of HB (Fear-Tension-Pain, Relaxation, Our bodies knowing what to do, etc...). But I'm so happy we took the class. We even took a "refresher" class before our 2nd birth. We like to say that the class helps to "de-brainwash" you from our society's perspective on how birthing should happen. What you see on "A Baby Story" and what you hear from your friend's about 36 hour labors, emergency c-sections, labor induction, etc... is not how birthing is meant to happen. It's not how birthing has happened for thousands of years before us, yet this is the image in our minds of what it will be like. So, the greatest gift of this class (for us) was getting back to the NATURAL process of birth.
On a personal note, after a long learning process, we opted to have both our babies at home. Not for everyone- I believe HB can work just as well in a hospital setting. However, we really used our newfound birthing knowledge for our most recent birth...
... we went into labor at 10pm and I called our midwife. She asked me to call when my surges were about 1 minute long each. Well, I was so into my HB relaxation cd's and so focused on remaining comfortable, that I didnt notice that my contractions had started getting that long and more frequent. Needless to say, I changed positions, my water broke, and I wanted to start pushing. (My first son was born 30 minutes after my water broke, so I knew we didn't have a lot of time). We called the midwife, but she was 30 minutes away. About 25 minutes later, after breathing down the baby- no real pushing except for the head to come out- my husband and I birthed our baby ourselves in the comfort of our own home. Baby arrived at 1:45 am. Our 19 month old slept through the whole thing in the room next door! We knew exactly what to do... the baby knew exactly what to do.
Please note again that we come from a very conventional medicine background- we were not planning on an unassisted birth. However, the confidence we had from our first birth going so well (using HB) and what we'd learned from book and class allowed us a great birth experience none the less.
-Michelle in Lancaster
Quiet Moments for Mothers :Pumping CD
I was having a problem with low milk production. The lactation consultant that I spoke with told me to try supplemental pumping in order to increase my milk supply. With three active children to care for, I always felt rushed when I used my breast pump. I was always watching the clock which caused me to be very tense. After speaking to Robin at NewBorn Concepts, I was given the Quiet Moments For Mothers: Pumping CD to try. Before listening to the CD I found pumping stressful and I never felt like I was pumping for long enough periods of time. I also didn't feel like I was having a good milk let down when I pumped. When I listened to the Quiet Moments CD, things instantly changed for me. I loved that the guided imagery was timed so I didn't have the tension of being a "clock watcher". I found comfort in knowing that once the track was over, I had pumped for the proper amount of time. I also saw a positive change in my milk production. When I listened to the CD I felt more relaxed and in turn, my production increased. I found the CD to be a valuable tool to assist me in my pumping.
-Tara, mother of three
Guided imagery is an evidence-based practice. In one study, Feher et al. discovered that women who used an audiotape of guided imagery increased their milk production as much as 121% over a group of women not using an audiotape. I am happy that this CD, specifically for women who are pumping, is available. In my private practice, I frequently encounter women having difficulties collecting milk while at their place of employment. I have suggested to these mothers that they listen to music through earphones to create a safe and private space for pumping. Now I can suggest they use this CD.
-Nikki, lactation consultant
For some reason, my milk supply is very low when I pump at work. I am very excited about this CD.
-Maria, mother of one
Your tempo is just perfect and the music is the best I've heard for...focusing and helping your body truly "let go". I give your CD a resounding A+. Every new mom that ever felt worried about her milk supply should have this in her hands.
-Jenny, midwife