Pregnancy and Birth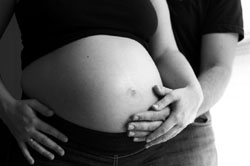 "Nothing great was ever achieved without enthusiasm" - Ralph Waldo Emerson
Be enthusiastic about learning as much as you can during your pregnancy, your baby will be glad you did.
HypnoBirthing: The Mongan Method®

Hypnotic relaxation, imagery and breathing will greatly elevate your birth to the most rewarding, empowering and fulfilling experience you can imagine. HypnoBirthing® childbirth classes are designed to provide pregnant women and their birth partners with the skills needed to reduce the Fear-Tension-Pain cycle. By learning self-hypnosis skills along with the physiology of birth, women can greatly reduce stress during the birth process for themselves, their birth partners and their babies. Your body's natural anesthesia (endorphins) will replace the stress hormones that contribute to pain. When it is time for your baby to be born, you will be fully awake and involved. Studies show this method can shorten the first stage of labor by several hours and greatly reduces the need for interventions. Many mothers believe it reduced fatigue during labor, promoted a special bond between them and their baby and their birth companion and they had a rapid postnatal recovery. Affiliated with the HypnoBirthing® Institute.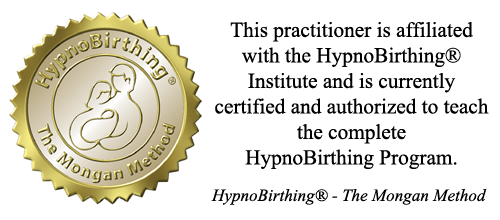 Weekend classes
Insurance reimbursement possible
Fee includes book, CD's and handouts
12 hours of class time
5 classes 2 1/2 hours each
Click here for class schedule
Fee: $300 individual or couples
To Register: Pay deposit online or mail (contact us for mailing address) $75 deposit (payable to Robin Frees) and complete both pages of the registration form.
Labor Assistant
Referrals available
Call the office for assistance
Private Hypnosis for Special Circumstances
Hypnosis sessions can be a useful tool for anyone seeking complimentary methods to resolve the following situations:
Anxiety
Breech
High Blood Pressure
Post term (beyond 41 weeks)
One to four sessions may be necessary
Physicians referral may be requested
Fee: $75 per 60 minute session.
To Register: Call the office for assistance
One Day Comfort Measures for Childbirth
For women/couples interested in learning skills to help them with their childbirth experience.
Weekend class
4 hours
Fee: $150, includes handout and stress reducing CD for childbirth.
To Register: Pay deposit online or mail (contact us for mailing address) $75 deposit (payable to Robin Frees).
Prenatal Breastfeeding Class
Whether you are a first time mom or were not successful with previous experiences, this class will meet your personal needs. A comprehensive review of positioning and latching techniques and how to solve minor problems that may occur in the early postpartum period are included. Learn how to tell when your baby is getting enough too.
1 session
60 - 90 minutes
By appointment
Fee: $75 and $100 for home visit (bedrest mothers)
To Register: Call the office for assistance